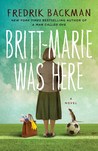 Britt-Marie Was Here by Fredrik Backman
My rating: 5 of 5 stars
Another homerun from Fredrik Backman. Wow.
Britt-Marie Was Here follows Britt-Marie of My Grandmother Asked Me to Tell You She's Sorry fame through the next stage of her life, and it does so with deep compassion and beauty. If you've read about Elsa and her Grandmother, you know that Britt-Marie is hard to love. Britt-Marie is impossible to love. Britt-Marie is a nag-bag and a generally awful person. So, of course, Backman had to dive into her full-tilt to help us see her from the inside out.
I am, for the third time, blown away by this guy's ability to get under the skin and animate the least lovable people and circumstances to the point of complete empathy. He takes the loathsome, the downright deplorable, and spins them inside out until we're rooting for them like the underdog in a catfight (Maybe Ove's cat). I love it.
As far as how much I loved this book… It was on par with Ove, a full five stars without an ounce of hesitation. I can't say it was quite as perfect as Elsa and Granny, who I would gladly have given 6 or 7 stars, but they can't all be that remarkable. I am a card-carrying Fredrik Backman fan.